Customized Care
Our mission at Artis is to partner with residents to build a care plan that specifically addresses their comfort and happiness. Partner Profiles and resident, family, and associate councils are two tools that help meet the goal. We created the role of Director of Partnership Development, a person who helps match residents with the partners and programs they want and require. Our on-site resources include:
Licensed Nurse Available 24 Hours a Day
Medication Management
Physical, Occupational, and Speech Therapy
Medical Appointment Scheduling
Mobility Assistance
Care partners are on hand to help with daily living assistance as the need arises. Weekly housekeeping, linen, and laundry services help keep things fresh and tidy.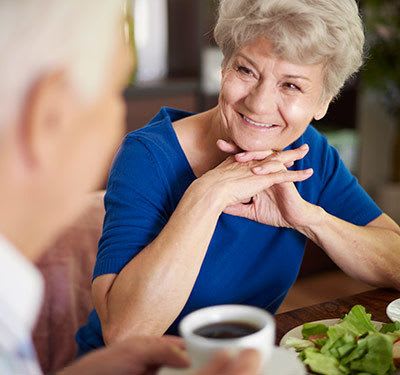 Good Living
Nutritious food that tastes good is an essential part of well being. Delicious meals are served daily in our dining rooms. Contemporary research indicates that the Mediterranean diet may help prevent and slow the progression of Alzheimer's and memory loss diseases. That is why we've chosen to incorporate these practices in our recipes and food preparation in order to provide a holistic, caring approach to dining at Artis.
For a pick-me-up anytime, hydration and snack stations are conveniently located throughout the neighborhoods. Residents are invited and encouraged to weigh in on menu offerings at Time to Dish, a regularly scheduled community meeting that addresses food and nutrition choices.
Call Artis to schedule a time to stroll the private courtyards and have a conversation about positive partnerships and memory care.