Memory Care in Commack, New York
At Artis Senior Living of Commack, our Memory Care specialists help your loved one live life to the fullest, approaching each day in ways that may have once seemed out of reach. Our care philosophy begins with a positive "Why not?" attitude, which helps us see each challenge as an opportunity to learn and grow. Other unique elements that create our industry-leading approach to Memory Care include a personalized care plan for each resident and open, two-way communication designed to honor each resident's autonomy, allowing them to explore their independence and continue discovering new things about themselves and the world around them.
By providing your loved one with personalized, around-the-clock care and treating their whole body rather than just the symptoms of their disease, our Memory Care specialists encourage your loved one to experience more each day. Other features of our Memory Care community include: 
Licensed Nurse Available 24 Hours a Day
Medication Management
Physical, Occupational & Speech Therapy
Medical Appointment Scheduling
Mobility Assistance
To help residents keep their homes comfortable, we also offer laundry service.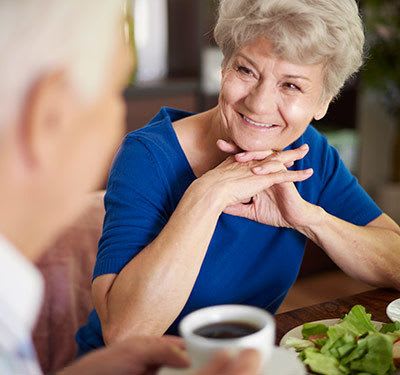 Health and Wellness
At Artis Senior Living of Commack, we work hard to stay at the forefront of modern Alzheimer's and dementia programming and care. For example, research has shown that the Mediterranean diet may have the power to help slow the progression of these memory loss illnesses. At Artis Senior Living of Commack, we've harnessed this knowledge by incorporating these cooking practices and cuisines into our menus, providing holistic whole-body care and exciting flavors for residents of our Commack, New York, Memory Care community.
By creating a resident-specific care plan based on your loved one's unique needs, personality, likes, and dislikes, we care for and support each resident holistically, both outside and in. At Artis Senior Living of Commack, residents get full support for their whole body, from their heart to their mind.
Town Center – Our Wellness Hub
At Artis Senior Living of Commack, our Town Center is the location of our wellness hub. This is where residents come together for social events, enjoy some time in the art studio, or take part in organized activities. This is also where they access the secured courtyard and enjoy breathing in the fresh outdoor air on one of our walking trails.