Memory Care in Chestnut Ridge New York
Artis Senior Living of Chestnut Ridge is excited to offer professional Memory Care and short-term Respite Care for people in Chestnut Ridge. Our unique philosophy is built on the premise of treating people, not illnesses, which is why we take the time to create individualized care plans for each resident. The most essential elements of our approach to Memory Care are open, two-way communication and a positive "Why not?" attitude that helps us see things in terms of possibilities instead of limitations. 
In addition to comfortable, home-like surroundings and an inviting, family-style community atmosphere, residents of our community benefit from: 
Licensed Nurse Available 24 Hours a Day
Medication Management
Physical, Occupational & Speech Therapy
Medical Appointment Scheduling
Mobility Assistance
For additional support, laundry service is also available to help residents maintain a comfortable living space. 
Health & Wellness
At Artis Senior Living of Chestnut Ridge, we are committed to providing the highest quality care to our residents. This is why we always strive to keep up to date on contemporary Memory Care advances, such as beneficial foods and more. Research suggests that the Mediterranean diet may actually slow or even prevent the effects of memory loss illnesses like Alzheimer's and dementia. This is why we are excited to provide this delicious option to our residents. 
We care for the whole person, not just the disease, which is why our kind, compassionate care associates are onsite to provide essential support with the activities of daily living, as well as sincere, individualized encouragement and companionship.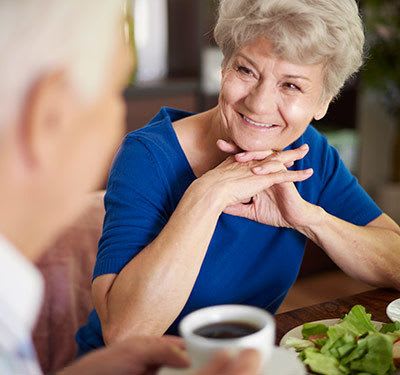 Welcome to the Wellness Hub
In our community, the Town Center acts as our wellness hub, where residents are invited to explore and enjoy a variety of opportunities for enrichment. There is an engaging art studio to encourage creative exploration and a beauty parlor and barbershop to provide a little self-esteem boost. It's all part of creating a place where residents and associates can gather as a community to create meaningful moments together. 
Respite Care
When a regular caregiver is unavailable, temporary care is available through our Respite Care program. It is also an ideal solution when additional care is needed after an illness or injury. There is a minimum two-week requirement for Respite stays at Artis Senior Living of Chestnut Ridge. 
Contact us today to learn more about Memory Care and Respite Care from Artis Senior Living of Chestnut Ridge.