Memory Care in Briarcliff Manor, New York
If you are in need of professional Memory Care or temporary Respite Care in Briarcliff Manor, Artis Senior Living of Briarcliff Manor is here to offer a solution. We specialize in Memory Care because we understand that treating the individual is far more important than treating the disease. We focus on real partnership and two-way communication with residents and their loved ones, and we always approach living with a positive "Why not?" attitude. 
Our mission is to provide a comfortable community where people with Alzheimer's and dementia can explore their independence and discover a richly rewarding lifestyle. In addition to assistance with the activities of daily living, our Memory Care services include: 
Licensed Nurse Available 24 Hours a Day
Medication Management
Physical, Occupational & Speech Therapy
Medical Appointment Scheduling
Mobility Assistance
We also provide laundry service.
Health and Wellness
At Artis Senior Living of Briarcliff Manor, we are committed to the health and wellness of our residents. Keeping an eye on new developments in the field of Memory Care is essential to providing the best services and support to your loved one, which is why we have incorporated the popular Mediterranean diet into everyday life. Contemporary research suggests that this diet – heavy on fruits, vegetables, whole grains, legumes, and nuts – helps slow or even stop the progression of diseases such as Alzheimer's and dementia. It's also a delicious way to help our residents enjoy mealtime and feel their best all day long. 
Whether it's an innovative diet or a whole new method of care, we always approach new ideas with an open mind, because that's what it means to do things the Artis Way.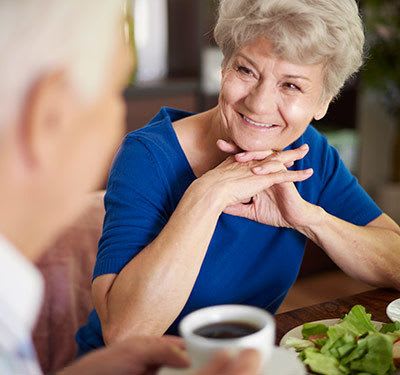 Life-Enriching Extras
Within our Town Center, you will find a wealth of opportunities for spiritual, emotional, and physical activities that bring value and purpose to the lives of our residents. This area serves as our wellness hub, where residents can join community service projects, start an art project, or visit the beauty parlor or barber shop to freshen up, engage in healthy conversation, and feel good about themselves. 
Respite Care
Temporary care is available at Artis Senior Living of Briarcliff Manor. With a minimum two-week stay, our Respite Care program can provide supplemental support while a regular caregiver is unavailable or while recovering from an illness or injury. 
Schedule a tour of our community today to learn more about Memory Care and Respite Care at Artis Senior Living of Briarcliff Manor.