Memory Care in Eatontown, NJ 
Artis Senior Living of Eatontown offers an innovative and nourishing option for Memory Care in Eatontown, New Jersey. Rather than focus narrowly on disease, our specially trained care teams provide individualized support that respects and addresses the whole person. From the very beginning, we establish two-way communication that allows us to learn about each resident and understand the unique spirit that truly defines them. 
Our aim is to make each resident feel comfortable and at home, as well as support them to realize their highest level of independence within a warm and friendly community. Care teams provide laundry and housekeeping services as well as assistance with activities of daily living and Memory Care services such as: 
Mobility Assistance
Medication Management
Physical, Occupational & Speech Therapies
Licensed Nurse Onsite 24 Hours a Day
Living Healthy & Well
At Artis Senior Living of Eatontown, a big part of our commitment to senior residents and their families is keeping up on the latest and most relevant Alzheimer's and dementia research. We are perpetually seeking ways to improve care, enrich the daily lives of our residents, and slow the progression of memory loss. Take a peek at our dining menu to see research in action! Many of our dishes incorporate foods from the Mediterranean diet, known to have measurable health benefits for those people living with memory impairment. 
In our Memory Care community in Eatontown, NJ, we pay attention to the details as well as the big picture. From healthy eating to 24-hour care, we do everything we can to ensure that our residents and families feel respected, supported, and heard.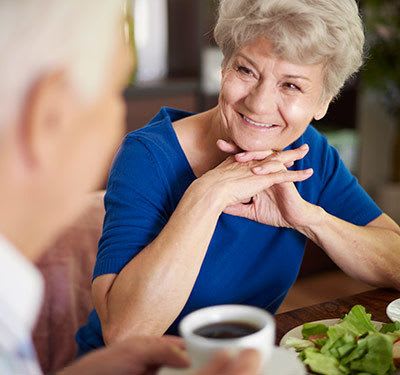 Community Wellbeing at the Center
The town center is where our community comes together to share stories, try something new, stretch and strengthen, and take pleasure in what the day has to offer. Organized events and activities include art, music, and opportunities to contribute through community service. The heart of our senior living community, the town center, is a sustaining resource for residents and their loved ones. 
Contact Artis Senior Living of Eatontown to arrange a tour and an in-person chat to learn more about innovative, compassionate Memory Care services in Eatontown, New Jersey.