Memory Care
We carefully design each community and neighborhood to serve the needs of individuals with memory loss in Lexington, MA. As a pioneer in the modern model of care for memory loss, Artis Senior Living provides the very best care and environments for those with Alzheimer's, dementia or other memory loss. Each of our care partners has received specialized training to work with seniors with memory loss and are committed to staying current with latest practices and care models. We understand that there is no one-size-fits-all plan for our memory care residents. With compassionate care and understanding, we will customize a plan that will adapt to each resident's changing needs and interests.
Care and Community
We understand how difficult it can be to transition a loved one to a memory care community. You may rest assured that your loved one will receive the very best memory care at Artis Senior Living of Lexington. Artis Senior Living is set apart from other memory care communities in the greater Boston area because of its unique neighborhood design. These smaller, more intimate groups of residents allow us to focus our care and provide a smaller caregiver-to-resident ratio. Our community has 24/7 care with nursing services and provides personal and hygiene care as needed.
Each neighborhood also features a kitchen and dining room, where residents are served three chef-prepared meals a day. Artis Senior Living of Lexington follows the latest research on how best to serve those with memory loss, which includes data that indicates a Mediterranean-style diet may prevent and slow the progression of Alzheimer's and other types of dementia. We offer residents the opportunity to join the Time to Dish community meeting, where they may provide their feedback on the dining program and even recommend favorite recipes. Each neighborhood also has hydration and snack stations for a quick refreshment in between meals.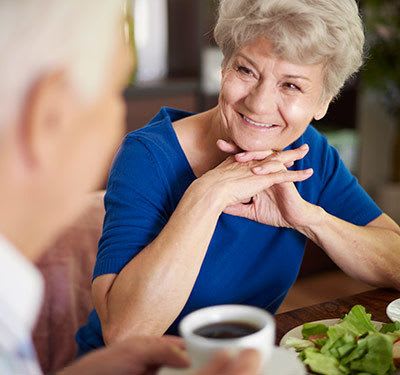 Respite Care
If you or a loved one is in need of a short respite stay, we welcome you at Artis Senior Living of Lexington. We provide a comfortable place to rest after a hospital stay or to give a caregiver a much-needed break from day-to-day responsibilities. Take comfort in knowing that your loved one will receive the highest standard of care from our staff.
We hope you will join us for a tour of our community so that you may see for yourself what sets us apart from other memory care communities in the greater Boston area. Call us today to make an appointment.